Harvest For All Program
The Farm Bureau Young Farmers & Ranchers Program is working with Feeding America to help feed the millions of Americans who face hunger in what we call a Harvest for All. Since Harvest for All began in 2003, Farm Bureau members have gathered nearly 65 million pounds of food, logged more than 30,000 volunteer hours and raised more than $778,000 in donations to local food banks. Throughout the year, farmers across the nation will be donating food, funds and people power to create a hunger-free America. And whether the contribution is a bushel, a dollar, or an hour, Farm Bureau and Feeding America will be working together to finish an important job—making sure every American can enjoy the bounty produced on our farms and ranches. In addition to work on the Harvest for All campaign, Farm Bureau and Feeding America have worked together on the CARE legislation that allows producers to take a tax deduction on donated commodities. The two groups will continue to work together on this as well as other legislation that meets both organizations' common goals and policy positions.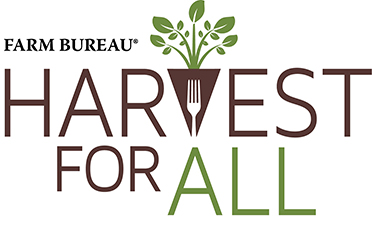 So, as a Young Farmer and Rancher Organization, what can you do? The Harvest for All campaign includes activities organized by state and county Farm Bureaus in connection with local Feeding America affiliates across the country. There are four categories a YF&R group will be judged upon when competing against other states:
Food quantity
Money donated
Volunteer hours contributed
And the newest addition, most creative idea for an even or project that benefits local food banks and feeding charities.
The winning states receive bragging rights and a check from America Farm Bureau Federation to present as their own donation to a food bank of their choice. If you have any questions, please feel free to contact your State Young Farmer and Rancher representative.
Learn More
Harvest for All Accomplishments